Unbiyong is a NotchRail station on the Northern Line and Green Ridges Line. It serves the northwestern residential hub of Unbiyong and nearby suburbs.
Unbiyong
翁毕勇
Wēngbìyǒng
Unbiyong

The aboveground platforms at Unbiyong.
Station Details
Opened
May 30, 2070 (Northern Line)
September 21, 2072 (Green Ridges Line)
Suburb
Unbiyong
Type of station
Aboveground
Number of Platforms
4
Platform arrangement
2 side
1 island (2 platforms)
Stopping trains
Suburban all stations
Suburban limited stops
Intercity all stations
Intercity limited stops
Transfers
Bus
Ridership
TBA
Station code
UBY
Services
Trackplan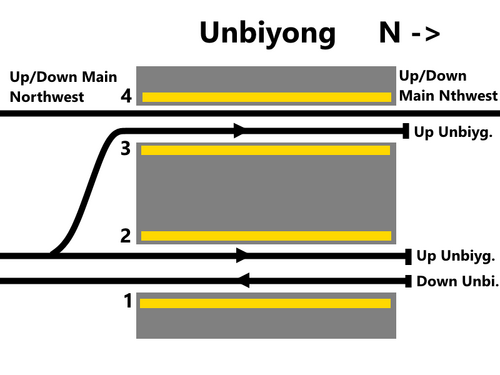 Neighbouring stations
Ad blocker interference detected!
Wikia is a free-to-use site that makes money from advertising. We have a modified experience for viewers using ad blockers

Wikia is not accessible if you've made further modifications. Remove the custom ad blocker rule(s) and the page will load as expected.