Penrith is a northern suburb of Notchropolis and the administrative centre of the Penrith District. It is the commercial centre and transport hub of the northern region.
Commercial area
Penrith is the main commercial centre of the northern region of Notchropolis. Many specialty shops exist around the train station and vicinity. Penrith is well-served by other public facilities such as the Ripley Swimming Centre and Keyn Recycling Plant.
Transport
NotchRail
Penrith NotchRail Station serves Penrith and is a main interchange station between the Northern Line and Pallet Line (for which it is the regular terminus).
NotchBus
Penrith is served by NotchBus services 601-606, 609, T10, T11, T30, as well as RailBus services (1-3NTH, 1-2PLT). Penrith has a NotchBus depot located opposite the train station. Bus interchange stands are being planned.
NotchFerry
Penrith NotchFerry Wharf is the main wharf serving Penrith. The wharf is served by the Qwerty River Line.
Roads
Penrith is accessible from the city using Plains Drive, a main road from the city to currently Larra Point. From the west, Howard Road and Victory Road from Bargo provide the quickest routes. Elizabeth Drive originates from the eastern suburb of Bradshaw (where it connects to Bradfield Road).
Landmarks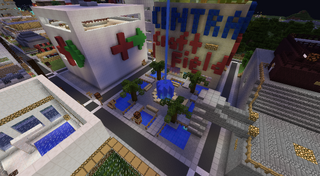 Penrith Plaza
Penrith Plaza is the cultural heart of Penrith, with surrounding facilities such as CraftField/Centra Penrith and Tungog Hospital. It maintains proximity to Penrith NotchRail Station.