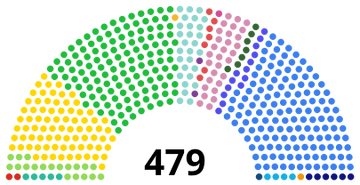 The parliaments of the Craftian states and territories are legislative bodies within the federal framework of the Republic of Craftia.
All the parliaments are based on the Westminster system, and each is regulated by its own constitution. All nine states and two territories have unicameral parliaments, all referred to as the Legislative Assembly.
Party composition
Individual parties
By political leaning
Bloc
 %
Seats
Total seats in all legislatures (479 total)
Red (left)
55.7%
267

 

Blue (right)
44.3%
212

 
List of parliaments
Voting systems:
MMP: Mixed-member proportional
STV: Single transferable vote
Preferential: Instant runoff (preferential) voting
Proportional: Party-list proportional voting
Parallel: Parallel voting (combined preferential voting and party-list proportional voting)
FPTP: First-past-the-post (plurality) voting
Ad blocker interference detected!
Wikia is a free-to-use site that makes money from advertising. We have a modified experience for viewers using ad blockers

Wikia is not accessible if you've made further modifications. Remove the custom ad blocker rule(s) and the page will load as expected.