NotchRail
诺城地铁
Nuòchéng Dìtiě
NotchRail (Metro Notchropolis)
Current logo, updated in 2076.
Owner
Jebsten State Government
Locale
Notchropolis, Jebsten
Began operation
1995 (as Notchropolis Railways)
2052 (as NotchRail)
Transit type
Rapid transit
Light metro
Number of lines
12
Number of stations
195
Operator(s)
NotchTransit Corporation
Track gauge
1,435 mm (4 ft 8 ½ in)
standard gauge
Electrification
DC 1500 V overhead line
DC 1500 V third rail
NotchRail is a rapid transit system in Notchropolis, Craftia, operating rail transit services to urban and suburban areas as well as almost all surrounding regions of Notchropolis.
Fleet
Main article: NotchRail Fleet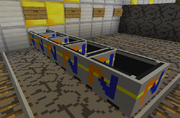 The current fleet of trains include:
The D Set and N Set are only ever used rarely.
Network
NotchRail operates 10 urban and suburban lines and 2 special lines, totalling to 12 lines.
Suburban lines
These lines travel through the city and suburban areas. They are coded with the prefix L, with the exception of the City Circle.
Special lines
These lines do not fit into the other categories or are special in some way. They do not have a code.
Interchange stations
The NotchRail network has 23 interchange stations (branch junction stations and turnback stations do not count). Nine of the interchange stations are also major interchanges, which are stations which are at least three-way interchanges (Pete's Corner is a four-way interchange, Arenaville Airport, Troll House and Waratah Park are five-way interchanges and Central is an eleven-way interchange).
Ticketing
The NotchRail network uses the MyRail ticket system.
Ticket vending machines are a common sight around most NotchRail stations, except in some less populated or rural areas. However, the ticketing system is experimental at the moment, and in the future turnstiles at stations will be built.
Ticket prices
The MyRail system uses a flat-fare, which means that the ticket is on a fixed price, no matter how far a passenger travels along the line. However, prices differ between inner-city/suburban, intercity, regional and special lines. Ticket prices vary from $2.00 to $3.00 for inner-city and suburban lines, $4.50 to $5.00 for intercity, $6.00 for regional, and $1.50 to $7.50 for special lines.
Usage
Usage surveys have been conducted on the NotchRail network to help improve overcrowding. The results of a 2073 survey are shown here (incomplete).
NOTE: Average load percentages are calculated by Passengers/train ÷ Maximum (comfortable) train load. It is assumed that one car of a train can comfortably house 100 passengers and that when dealing with lines that operate different sets, the largest regularly operated set is used.
Sample stations are chosen by where the most passengers on a train is estimated to be at, choosing one station per line to sample trains from both directions. The sampling is conducted as the train arrives at the station, before the doors are opened and any passengers leave or enter the train.
For example, the Northern Line is at its most crowded during morning peak hour, after Penrith station. The measurement is therefore taken at Acacia Park (before any passengers move in or out of the train).
The most crowded line is the Airport Express line, with 139% load rate. The City Circle and Pallet Line are tied for second, with 119% load rate each.
The least crowded line is the Achelous Line, with 56% and the second least is the Linford Line, with a mere 59%. The Allandale Line is the least crowded surburban line (67%)
Information and safety
Signage
The signature NotchRail sign which is present at the entrances of almost every NotchRail station, has been in place since 2015 (with an update of the signs in 2052). Station name signs on the platforms are in English, Chinese and Indonesian. Some informational signage is also in all three languages. Since 2067, more effort has been made to make the NotchRail network (and Notchropolis and Craftia in general) more multi-lingual since the adoption of Mandarin and Bahasa Indonesia as official languages in 2059.
Yellow lines
In 2052 as part of Project Revolution, all stations had yellow lines installed at the edge of the platforms. This is to help prevent passengers from falling onto the tracks. Previously, only major stations had yellow lines on the platforms.
Short Platforms
Some stations have short platforms which only allow boarding or exiting from certain carriages (according to the set that normally serves the station/line).
Short platforms are assigned a rating. Ratings currently used are SPR2 (back 2 cars), SPF3 (front 3 cars), and SPM1 (middle car only).
Announcements and information systems
All trains have digital voice announcement (DVA) systems which activate announcements on information about the next station, etc. If the train has a guard, guards may also make announcements.
A majority of stations have destination indicator boards which show and update information about the next few trains.
Pickup, Setdown and Request stations
Some services will only pickup or setdown passengers at certain stations. This is to ensure passengers travelling to further away stations have enough room. Passengers should use the appropriate suburban service when applicable.
Some stations will only be stopped at if the guard is notified or on special event days. Below is a list of request only stations.
Clock Tower (stops on request or special events)
Haslem (stops on request on all stops services only)
Macdonald Racecourse (stops on request or on race days, occasional regular timetable stops)
Network map
An important part of NotchRail's identity is its network map. The map is a schematic diagram of the network which is based on the Sydney Trains map in Sydney, Australia. It is currently in its 7th major revision. See NotchRail Network Map for more information.
Projects
There have been many major projects in the history of NotchRail:
Future
Extensions and new lines
As the city of Notchropolis always expanding, new lines and stations are built for the convenience of trav
Metro Monorail extension
Plans have emerged for the Metro Monorail to be extended from Animal Farm to City Museum (interchange with Dellfield Line).
New stations
There are often plans for new stations on already-built lines, due to growing development or other reasons. This is different from extensions, however, which involve building new track.
This list consists of new stations under planning or under construction.
Northdale - between Kayumba and Silverdale on the McArthur Line
Orchard Park - between Cartwright and Castlebrook Airport on the Castlebrook Line
SAO Centre - between Courage Point and Moss Vale on the Riverview Line
See also
Ad blocker interference detected!
Wikia is a free-to-use site that makes money from advertising. We have a modified experience for viewers using ad blockers

Wikia is not accessible if you've made further modifications. Remove the custom ad blocker rule(s) and the page will load as expected.