The Hyrule Circuit Go Karting Track (known as Hyrule Circuit GKT, HCGKT or GKT1), is a Go Karting Track located in Colgalah, Notchropolis.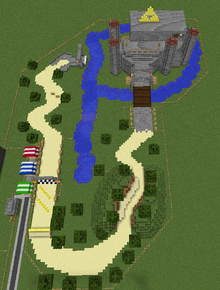 History
The HCGKT was built in 2073. It took 3 years to complete.
Transport
The HCGKT receives semiregular transport to Colgalah, and also shuttle services to the City. A railway station on either the Eastplains or Riverview Line is planned.
Races
The HCGKT hosts many races throughout the week. There are about 3 races each day. Entry is $50, and 1st to 3rd place get to race again for free. 1st and 2nd also win cash prizes.
Famous Events
The Annual Triforce Cup - Hosted each year. One of the biggest events in Notchropolis.
The Bimonthly Hyrule Tournament - Hosted each two months.
Ad blocker interference detected!
Wikia is a free-to-use site that makes money from advertising. We have a modified experience for viewers using ad blockers

Wikia is not accessible if you've made further modifications. Remove the custom ad blocker rule(s) and the page will load as expected.