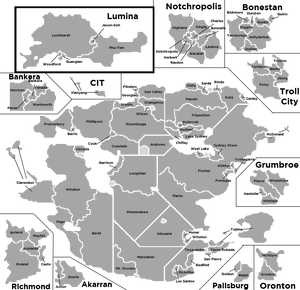 Electoral divisions for the Craftian House of Representatives
are commonly known as
electorates
,
seats
or
divisions
(officially translated as 选区
Xuǎnqū
in Chinese, 選挙区
Senkyo-ku
in Japanese). There are currently 100 single-member electorates for the
Craftian House of Representatives
, with the remaining 50 seats being allocated through closed-list proportional representation.
Naming
The Divisions of the House of Representatives are unusual in that many of them are not named after geographical features or numbered, as is the case in most other legislatures around the world. Most Divisions are named in honour of prominent historical people, such as former politicians (often Prime Ministers), explorers, artists and engineers. In some cases where a Division is named after a geographical locality, the connection to that locality is sometimes tenuous as a result of redistributions.
The redistribution, creation and abolition of Divisions is the responsibility of the Craftian Electoral Commission. Some of the criteria the CEC use when naming new Divisions are:
divisions are named after deceased Craftians who have rendered outstanding service to their country, with consideration given to former Prime Ministers
the original names of Divisions proclaimed at the inaugural federal election in 1986 (or earlier, as in the case of several pre-independence electoral districts) are to be retained
geographical place names are to be avoided
Reatinese names can be used as appropriate
names that duplicate names of state electoral districts are not to be used.
In total, 53 of the 100 divisions are named purely after people, disregarding those named after geographical locations which are named after people (indirect namesakes).
Geographical categories
Electoral divisions are divided into five categories based on geographical location:
Inner metropolitan (29) – inner-city areas of major cities
Outer metropolitan (22) – suburban and peri-urban areas of major cities
Regional metropolitan (6) – urban areas of smaller regional cities
Provincial (16) – exurban and inter-city areas beyond major cities
Rural (27) – regional areas
Records
Population
Area
Age
List of electoral divisions
Jebsten
There are 21 divisions in Jebsten:
Addams
There are 19 divisions in Addams:
Meyang
There are 13 divisions in Meyang:
Berhardsson
There are 11 divisions in Berhardsson:
Western Craftia
There are 10 divisions in Western Craftia:
Bankera Capital Territory
There are 7 divisions in the BCT:
Kagstron
There are 5 divisions in Kagstron:
Lumina
There are 5 divisions in Lumina:
Wintaro
There are 5 divisions in Wintaro:
Jagsland
There are 4 divisions in Jagsland:
Ad blocker interference detected!
Wikia is a free-to-use site that makes money from advertising. We have a modified experience for viewers using ad blockers

Wikia is not accessible if you've made further modifications. Remove the custom ad blocker rule(s) and the page will load as expected.