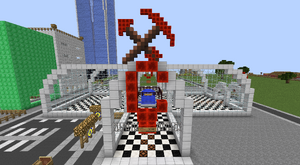 CraftField Arenaville
is a major shopping centre in
Notchropolis
,
Craftia
, established in 2074. It is the largest single storey shopping centre in the whole of Craftia.
The actual suburb the building resides in is Airport Square.
History
CraftField Arenaville commenced construction in 2070, and finished in 2074. At that time, the planned Airport Square shopping centre, which was delayed, became somewhat redundant. The land of the planned shopping centre was still reserved, however, as it is thought that the two shopping centres could bring a better experience together.
Transport
Trains
CraftField Arenaville's nearest railway station is Airport Square.
Buses
NotchBus runs several bus routes through CraftField Arenaville.
200: To Summerley and Central
200x: To Summerley and Central
604: To Penrith via Tungog
702: To Central and Arenaville East
743: To Castlebrook Airport via Treetop
753: To Silverdale via Oldale Village
901: Arenaville Free CBD Shuttle
T12: To Caniswell via Belara
T80: To Castlebrook via Silverdale Highway
T92: To New Achelous or Oldale Village
T95A: Notchropolis Orbital
T95C: Reverse of T95A
List of Stores
Ad blocker interference detected!
Wikia is a free-to-use site that makes money from advertising. We have a modified experience for viewers using ad blockers

Wikia is not accessible if you've made further modifications. Remove the custom ad blocker rule(s) and the page will load as expected.